Tom Walker
President of Oscar Lighting
Oscar Lighting is an inspiration from my father, William H. Walker, who my family nicknamed "Oscar the Grouch".
A multi-talented man, he designed the original lighting unit back in the mid 60's. After his passing in 2010, I brought it back to our New Hampshire home, where it brings warmth and ambiance every night.
Here's to you Oscar!
William H. Walker
Founding Father (a tribute)
Sure, Dad was a grouch back in the day but we all knew otherwise. Beneath all the gruffness, was a caring man who had many talents and passions. He built, (yes, HE built) our family home in the late 50's and furnished it with Contemporary flair.
One of my favorite pieces was a pedestal light he designed, built, and placed in our family home back in the mid-60's. Its soft lighting creates warmth and glow I like to think (today) shines eternally to his memory.
The Oscar Evolution
A never-ending quest for excellence!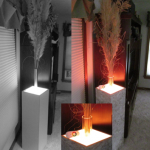 The original lighting pedestal my father built (left) was of simple elegance and design. A 75-watt light bulb was attached inside the unit with an on/off switch on top. We mostly turned it on when company visited, then turned it off promptly later that night as the bulb ran "hot".
My new "Oscar" light (right) carries the same aesthetics as Dad's, but with many enhancements. First, are the LED Lights – which never run "hot" and are highly energy efficient (keep 'em on all night!). Next comes the Remote Control that allows you to create the right lighting color/hue/saturation from literally thousands of colors!
I'm sure Dad wouldva thought this was the GREATEST (GD) thing. I sure hope you do too!